Key Evidence
01
Traditional and emerging techniques and channels are used to market unhealthy food to children
02
Internet data can be used to build detailed profiles of individuals for marketing purposes
03
Portraying unhealthy food as fun is a strategy commonly used to appeal to children
Children are exposed to unhealthy food marketing throughout their day – at school, in shops, outdoors, when they play and watch sport, watch television or use social media. With children's digital media consumption growing rapidly, the internet has become a major platform for food marketing.1 Novel, immersive techniques such as food-themed game applications ('apps') deliver marketing to children anytime, anywhere on portable devices such as smartphones.
Unhealthy food marketing to children includes traditional purchased advertising as well as 'native advertising' which mimics the look and type of content on a particular platform and therefore may not be recognised as advertising. Social media marketing is embedded into engaging media content which children are encouraged to share with peers, and online 'influencers' are used to promote unhealthy food brands on platforms such as Instagram.1
Digital media give marketers data that can be used to target children based on their online habits. Online tracking methods are used widely including geo-tracking on smartphones, and marketers are building extensive, detailed profiles of anyone using the internet in order to tailor their marketing messages in unprecedented ways.
The World Health Organization's Regional Office for Europe explains:
Advertising delivered to users on the Internet is tailored either to the content that a user is viewing on a site (contextual advertising) or to characteristics and preferences of each individual user (online behavioural advertising). To deliver contextual advertising, information on users is collected within the website, app or platform itself. To deliver online behavioural advertising, all participants in the advertising ecosystem collect and sell extensive information on users, drawn from dozens or more trackers on any one site or platform. Information on users is merged from multiple Internet locations and devices to create deep individual profiles that go far beyond basic demographics. User profiles include detailed data on online browsing activity, devices and networks used, geo-locations, personal preferences and "likes" and social activities in digital social networks.2
By drawing on extremely fine-grained analyses of children's behaviour, advertisers seek to locate and identify those who are most susceptible to their messages.2 They follow children "throughout the day, at moments of happiness, frustration, hunger and intent" to deliver advertising with maximum impact. Marketers aim to engage children in emotional, entertaining experiences and encourage them to share these with friends.
While US legislation has attempted to restrict online tracking of children, its effectiveness is debatable. The US Children's Online Privacy Protection Act (COPPA) is applied by many countries internationally and stipulates that personally identifiable information may not be collected from children under 13 years without parental consent.3 The legislation has reportedly stopped "some egregious predatory data practices", however it has substantial gaps and does not apply to children older than 13 years. Many sites and apps do not comply with COPPA, children may lie about their age and parents may consent to their children's data being collected without understanding the implications.3

Channels and techniques used to market unhealthy food to children

Advertising
Broadcast: including TV and radio
Print media: including newspapers, magazines and comic books
Online: including on social media and video platforms such as YouTube
Outdoors: including billboards, posters and public transport
Cinemas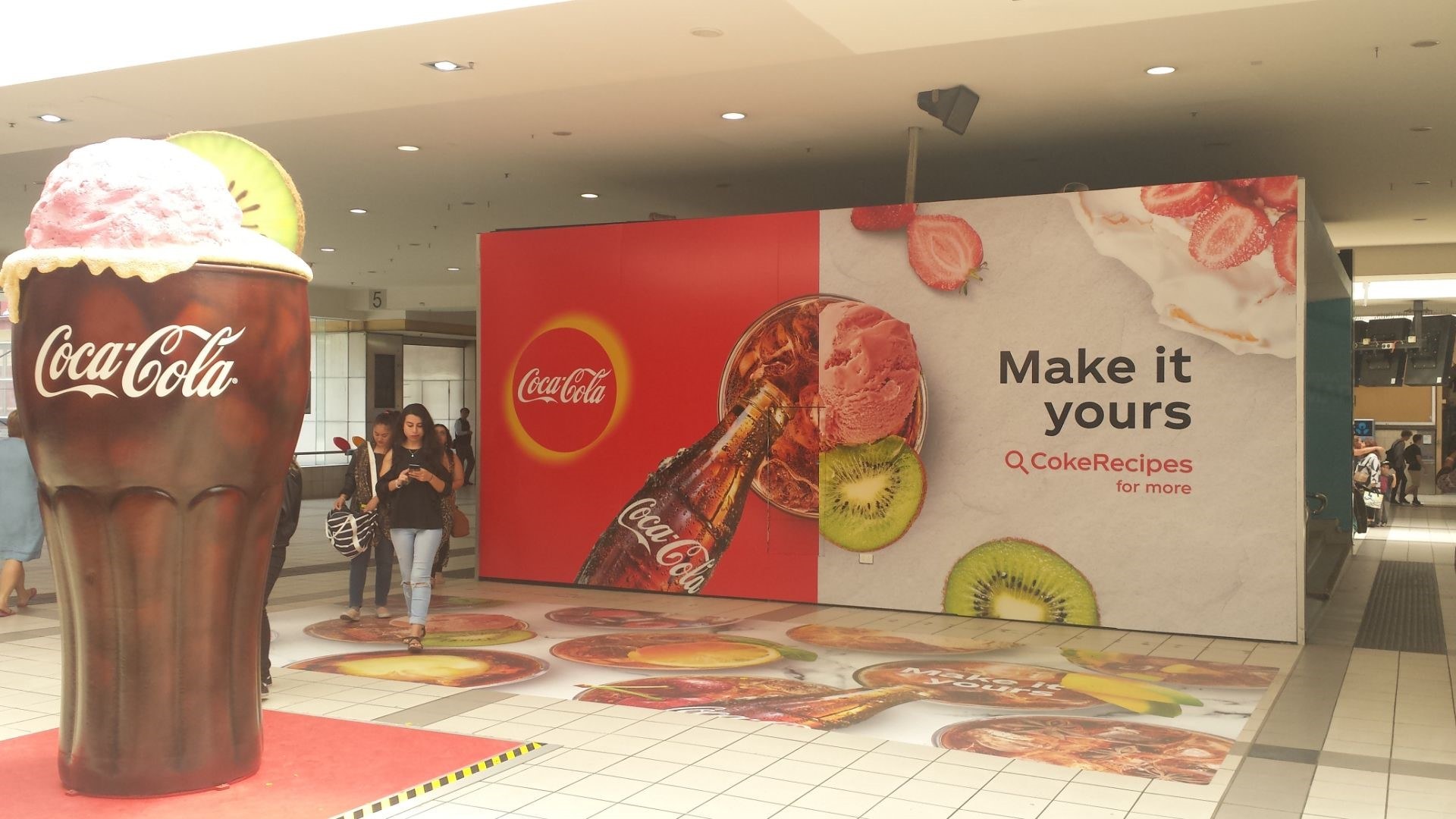 Product placement and branding
Product placement e.g. in TV, radio, films, computer games
Branded books e.g. counting books for pre-schoolers
Branded toys e.g. Coles Little Shop promotion
Branded computer games and apps
Branded and/or interactive web sites (with puzzles and games) e.g. McDonald's Happy Meal website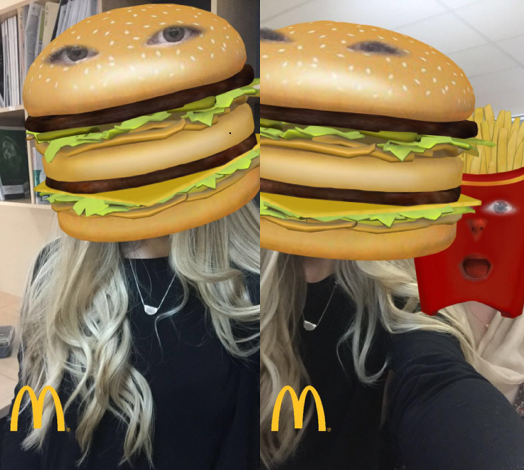 Sponsorship
TV and radio programs
Events: including community and school events
Educational materials and equipment
School breakfast or lunch programmes
Venues
Sports teams (amateur and professional)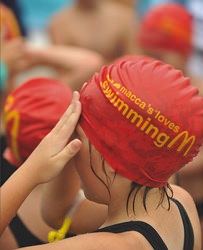 Direct marketing

Text messaging to mobile phones
Contests, prizes
Vouchers used as educational or sporting awards
Promotion and sampling schemes in schools e.g. chocolate drives
Product design and packaging
Product design: colours and shapes e.g. dinosaur-shaped products
Packaging design: imagery, colours
Product portions e.g. king size, duo packs
In-pack and on-pack promotions e.g. gifts, puzzles, vouchers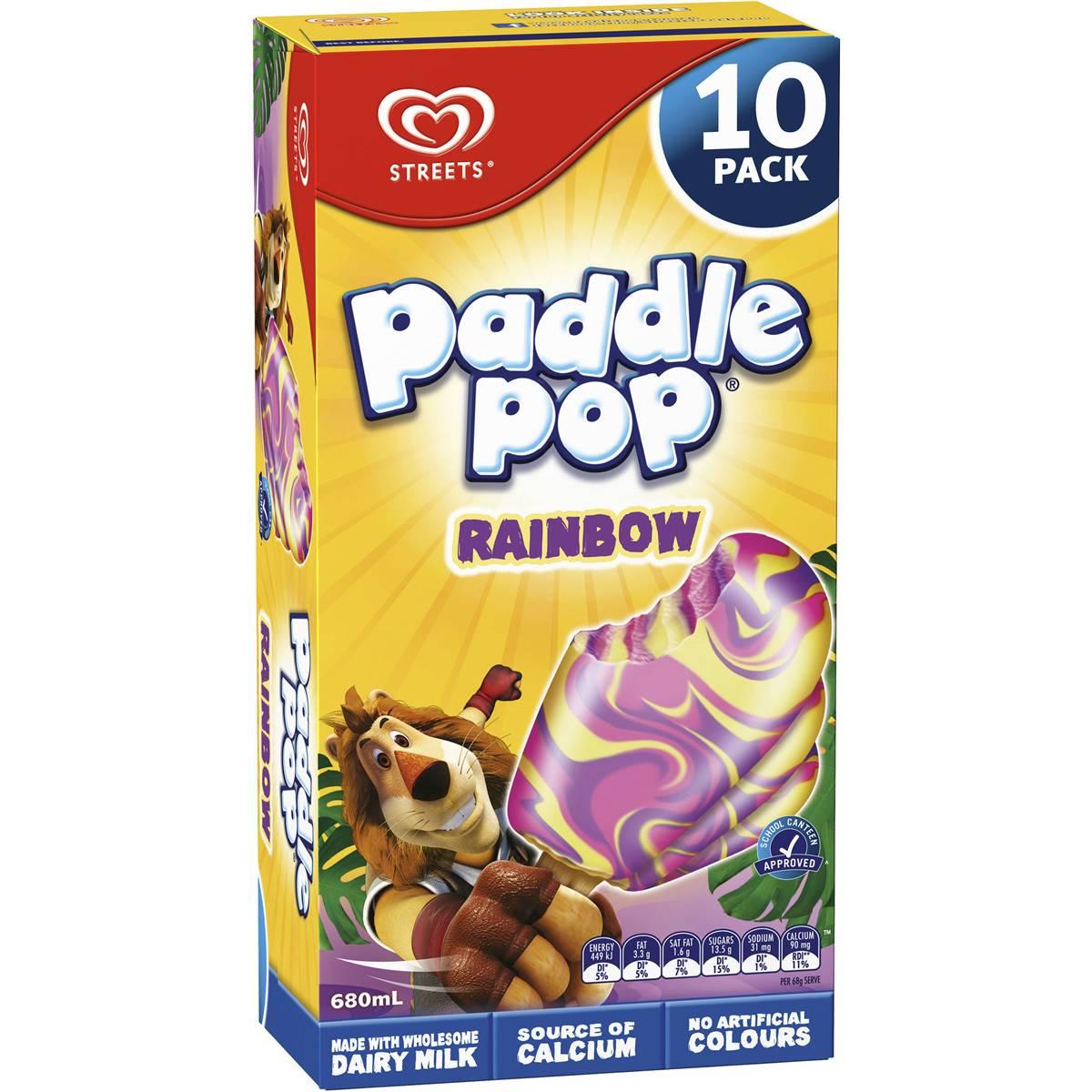 Point-of-sale
On-shelf displays
Displays at check-outs and end-of-aisles in supermarkets
Vending machines in schools and youth clubs
Loyalty schemes
Free samples and tastings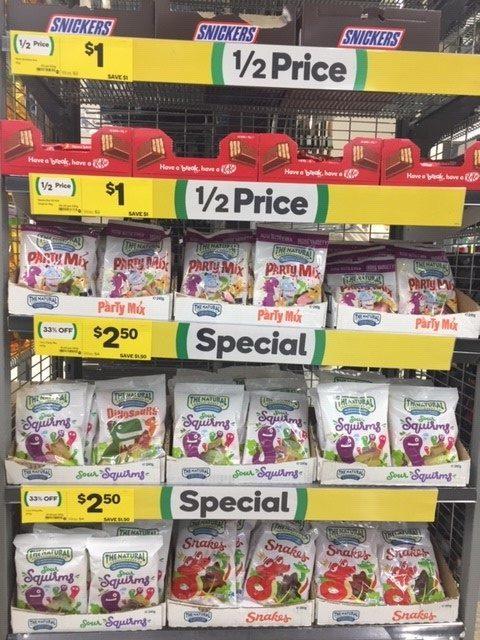 'Fun' in unhealthy food marketing
Portraying unhealthy food as 'fun' or linking it to fun activities is a strategy commonly used to appeal to children.4 To harness the important role of packaging in appealing to young children,5 brands often include references to 'fun' or 'play' or use cartoon characters on the pack. They use fun-sounding names (e.g. party mix lollies, fun-sized chocolate bars), fun shapes (e.g. Freddo Frog), and fun colours.6 McDonald's was an early adopter of this technique in 1979 when it launched its Happy Meal, a children's meal and toy in a colourful box which remains popular around the world today.7 PepsiCo characterises part of its product range as the 'Fun-for-You' portfolio, which includes the soft drink brand Pepsi and chips Doritos and Cheetos. (There is also a 'Better-for-You' portfolio and a 'Good-for-You' portfolio.)7
A focus on 'fun' in unhealthy food marketing to children can reconfigure relationships with food, distract from health concerns and increase consumption.7 Fun has positive connotations and attempts to deny fun are met with resistance (such as 'nanny state' criticisms). Children may seek to eat or snack as a source of entertainment rather than because they are hungry, or eat more than necessary because the food is 'fun'. For older children, the focus shifts to 'cool' and messages are often spread through viral marketing which encourages children to share content with their peers.8 An Australian study cited the example of Coca-Cola's Talking Penguin mobile phone application in which users directed a penguin to perform various actions such as kicking a soccer ball or dancing, and could upload the resulting video to Facebook.8

References
1.
Coates AE, Hardman CA, Halford JCG, Christiansen P, and Boyland EJ. Social media influencer marketing and children's food intake: A randomized trial. Pediatrics, 2019; 143(4). Available from: https://pubmed.ncbi.nlm.nih.gov/30833297/
2.
World Health Organization Regional Office for Europe. Tackling food marketing to children in a digital world: trans-disciplinary perspectives. 2016. Available from: http://www.euro.who.int/en/health-topics/
3.
Boyd D, Hargittai E, Schultz J, and Palfrey J. Why parents help their children lie to Facebook about age: Unintended consequences of the 'Children's Online Privacy Protection Act'. First Monday, 2011; 16(11).
4.
Cairns G, Angus K, Hastings G, and Caraher M. Systematic reviews of the evidence on the nature, extent and effects of food marketing to children. A retrospective summary. Appetite, 2013; 62:209-15. Available from: https://pubmed.ncbi.nlm.nih.gov/22561190/
5.
Pomeranz JL. Extending the Fantasy in the Supermarket: Where Unhealthy Food Promotions Meet Children and How the Government Can Intervene. Indiana Health Law Review, 2012; 9(1).
6.
Elliott C. Packaging Fun: Analyzing Supermarket Food Messages Targeted at Children. Canadian Journal of Communication, 2012; 37.
7.
Elliott C. 'Big Food' and 'gamified' products: promotion, packaging, and the promise of fun. Critical Public Health, 2015; 25(3):348-360.
8.
Backholer K, Boelsen-Robinson T, and Peeters A. Digital marketing of unhealthy foods to Australian children and adolescents. Health Promotion International, 2015; 31(3):523-533.